Many Regions, Many Offices, Many Archives: A Microsoft Office 365 Migration Story
25,000 users and 60,000 individual email archives (300TB of data) to migrate to Microsoft Office 365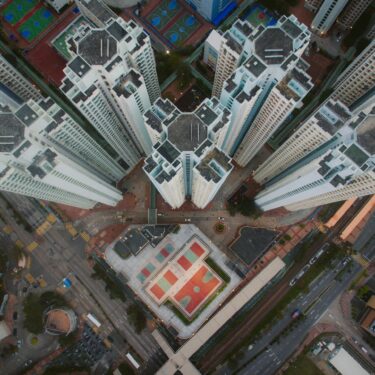 Making a Company's World a Smaller, Simpler Place
Partner

Insentra

Source

Multiple

Target

Microsoft Office 365

Data Size

300TB

Solution

Transvault Migrator
CHALLENGES:
25,000 users and 60,000 individual email archives (300TB of data) to migrate to Microsoft Office 365.
Six major email archive migration projects to complete across three geographies: Americas, Asia Pacific, and Europe.
Significant time pressure to complete one of those migrations, driven by relocation of the parent company and associated infrastructure decommissioning.
Platform consolidation for multiple email archives, including the email archives of two acquired companies.
DESIRED OUTCOME » Simplification and standardisation of email archive platforms company-wide to improve user experience and streamline management through a unified, global solution.
RESULTS:
Successful consolidation of multiple email and email archive platforms into Microsoft Office 365.
Secure decommissioning of on-site infrastructure made possible by platform migrations.
Reduced platform Total Cost of Ownership due to standardisation and retirement of legacy tools.
On-going operational savings achieved through simplified licensing structures.
A fully-supported standardised platform (avoiding end-of-life support complications of multiple previous systems).
Centralised oversight and management of email archives worldwide.
Enhanced user experience throughout the global organisation.
Simon Altit, Practice Manager, Data Migrations, Insentra
"You absolutely have to plan with the end in mind. You need a very strong understanding of what the business requirements are around user experience. If you don't get that vision right from the outset you will spend a lot of time reworking things".
This property and infrastructure company with locations in over 40 countries across the globe, manages financing and development of significant sites for both the private and public sector.
A series of mergers and acquisitions had seen the company grow dramatically over time and resulted in a complex web of segregated data and systems.
With tens of thousands of emails passing through multiple servers daily, email management was unnecessarily complex and unwieldy. Six different email platforms were in use across the organisation in a variety of different region-specific versions and flavours, managed from multiple locations.
To introduce global consistency of end-user email experience and to bring order to the company's email management sprawl, the company wanted to complete a streamlined, multi-part migration in the shortest time possible. The challenge was amplified by operations dispersed across three key territories: Asia Pacific, the Americas and Europe.
The company's US-based global IT team – who had central oversight and management of the project – sought an IT provider who could help achieve this global consolidation efficiently, without negatively impacting email users during transition. Insentra was selected over alternatives because it clearly articulated how to resolve the problem in a straightforward and risk-free manner. Using Insentra's five-stage methodology, the proposal outlined a rigorous approach that would achieve the client's desired outcome in the shortest available time, with an end-to-end solution from planning through to post-migration support.
Challenges of Multiple Email Archives:
Complex licensing structures contributing to inflated operating expenditure
Legacy platforms approaching end of life with associated support challenges
Difficulties ensuring data integrity and regulatory
Unnecessarily complex IT management overhead due to lack of standardisation
Six migration projects needed to be conducted in parallel:
» One for each of the geographies,
» The parent company migration, and
» Consolidation of the two acquired companies' platforms into the parent company's archives.
The complexity of the overarching migration strategy – across the three territories, and the parent company with its two acquisitions – can be seen in the image.
Americas
MIGRATING TO OFFICE 365 FROM EXCHANGE 2010 AND EV
The Americas region represented a crucial phase in the global migration program because the global IT team in the USA would be responsible for the ongoing management of the company's global consolidated email platform. So time was of the essence to ensure the stability and success of the overarching solution post-migration.
In Exchange 2010 and above, it is possible to use hybrid mode to provision an Online Archive in Office 365 whilst still having the mailbox on premise. This leaves data accessible in the two locations, so that when the mailbox is moved into Office 365, the archive is already there with all data migrated.
This method was perfect for the Americas migration:
1. The company's IT team moved all mailboxes to Office 365 via Hybrid Mode in Exchange.
2. Once there, they provisioned an online archive.
3. Insentra then migrated all of the users' data from EV into the newly provisioned online archive via Transvault Migrator.
4. Insentra went through and deleted all the shortcuts that were left in the users' mailboxes.
The result?
A rapid, smooth migration that minimised disruption and met the demands of an accelerated timeline.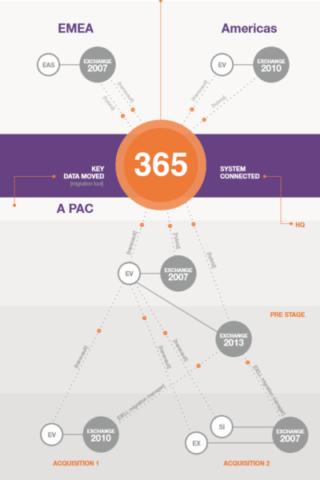 Europe
MIGRATING TO OFFICE 365 FROM EXCHANGE 2007 AND AUTONOMY EAS
A different approach was needed for Europe because they were migrating from Exchange 2007 and archiving with Autonomy EAS. Exchange 2007 does not allow the kind of transfer possible with Exchange 2010, so Europe's EAS archive did not have a straightforward pathway for integration with Office 365.
A more lateral approach was required:
1. Insentra connected to the users' mailboxes in the evening (to avoid work interruption) and deleted all shortcuts.
2. Once that process was completed, the company's European IT team moved mailboxes to Office 365 and notified Insentra when an Online Archive had been deployed.
3. After the mailboxes had been moved, and the archive deployed, Insentra migrated the most recent 12 months of mail into each user's archive, before migrating the remaining messages for that user.
The result?
A guarantee that when the user arrived in the office in the morning, they had a minimum of twelve months of data. Within two to three days, they would then have access to all of their mail.
Asia Pacific
MIGRATING TO OFFICE 365 FROM EV, SOURCE ONE, EMAILXTENDER AND EXCHANGE 2007/2010
The Asia Pacific region needed a different approach again to achieve a staged migration of the two acquired companies into the parent company's Exchange and EV environments. Due to timeline restrictions in this region, it was decided that an on-premises intermediary solution was required before a full mailbox migration to Office 365 could be completed. So the mail environments were consolidated into one Exchange and EV environment, in preparation for when the region was ready to complete the mailbox move to Office 365:
1. Insentra created archives in the parent company's EV environment for every single user, and then migrated the archive data out of the pre-existing EV, Source One and EmailXtender environments into the parent company's EV
2. As both the parent company and the acquired companies had Exchange, the company's IT team used Dell Migration Manager to move the primary mailboxes into a pre-stage, intermediary Exchange 2013 environment (from Exchange 2007 and 2010 respectively)
3. The company's IT team then cut across the mailboxes from the old environment into the parent company's Exchange environment
4. Following the cut-over, they decommissioned the legacy mail environments from the two acquired companies
5. The IT team then connected the Asia Pacific Exchange environment to the organisation's Office 365 deployment and created Online Archives for all mailboxes.
6. Insentra then migrated the users' EV archive of data into the Online Archive in Office 365 and removed all shortcuts from the users' mailbox on premise (eliminating the need to migrate the shortcuts to Office 365 which reduced the time to migrate the mailbox)
7. The IT team then used Hybrid mode to move the mailboxes to Office 365.
The result?
Seamless integration of acquired companies into a consolidated platform.
The Basics of a 'Chasing' Migration
Time limitations often require what's called a 'chasing' migration where the primary mailbox needs to be migrated before an archive can be migrated, rather than the archives being moved first. Groups to be migrated are picked based on their shared access requirements (such as a PA having access to their manager's email). In these instances, the client determines the groups to be migrated, usually by department or geography. This means the archive migration is always chasing the mailbox migration to ensure a smooth user experience
"We enjoyed working with Insentra. We knew there would be challenges, but it was a joy to work with such a professional yet personal team" – IT Manager, Multi-national construction and infrastructure services company
Success – Foundation for Future Growth
The end result was a unified global archive environment across all three regions, able to be centrally managed from the Americas, and successfully achieved within the client's desired timelines. There is nothing unique about each of these regional migrations when considered in isolation. It is the accumulated challenge of consolidating such a diverse set of platforms in concurrent projects, across multiple regions and with different requirements, that makes this an interesting case study.
Key insights and outcomes from this highly successful global project:
» Office 365 was the obvious choice to consolidate from multiple environments.
» Fully-supported platform to replace end-of-life systems
» Powerful inbuilt Exchange Online Archive capability
» Provides powerful collaboration features to support company growth.
» Move to a single integrated productivity platform enables central management through a unified management interface – In this case the all regions are now managed by the global IT team in the USA
» Unified systems deliver licensing efficiency – This global project simplified a previously complex licensing structure by eliminating a number of vendor solutions
» Total Cost of Ownership savings can be significant – This project decommissioned significant infrastructure including 40 servers, 300 TB of storage and legacy tools
» Tailored solutions and the right partner can make the difference – This global project was a true partnership between Insentra and the company's IT team. That collaboration enabled careful alignment of regional approaches to meet regional needs… and it enabled a highly successful project that has left the client delighted and end-users more productive.
This company is enjoying the fruits of a successful global consolidation and the unified user experience of a productivity platform poised to support future growth.
Insentra delivers a range of professional and managed services through global partnerships with organisations in the IT channel. Our international partner community enables the collaborative delivery of business outcomes for clients.
We are a global leader in automated archive migrations. Having migrated over 1PB of archive data across four continents, Insentra has been named partner of the year by multiple vendors.
With experience spanning email archive, PST, file archive migrations and EMC Centera migrations, clients have confidence in our proficiency as a global expert in archive migrations.