Transvault – Nulia Works
Unlocking the Value of Teams, from home
Nulia Works enabled Transvault to use existing Office 365 tools in brand-new ways by incorporating Microsoft Teams into their daily flow of work, increasing overall teamwork, communication, and collaboration.
We adopted Nulia Works early and were in a really strong position to see its benefits as our team went to 100% remote working. It's advanced our team's proficiency and usage of Office 365 in new ways and we're certainly benefiting from the additional digital skills it brought into our daily work.
The Situation/Challenge
A need to shift to working from home required the company to use existing Office 365 tools and applications in a brand-new way.
The Nulia Works Solution
By enabling employees to deeply engage with and consistently use the features and functions of Microsoft Teams, Nulia Works unlocked new ways to collaborate.
Benefit
Nulia Works improved the baseline of Teams skills, usage, and confidence throughout the company, and increased overall communication and teamwork
What's Next?
Transvault is excited to continue with Nulia Works to further unlock the value of Office 365 for their company and use existing software assets in new and efficient ways.
30 day changes
Significantly increased employees' Teams usage from a few times per week to every day
Improved collaboration by sharing links in OneDrive and SharePoint rather than sending email attachments
Increased overall usage of Office 365 tools in more efficient ways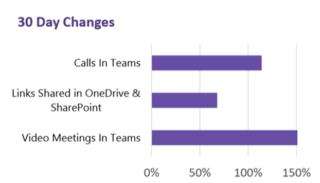 Find out more about Nulia Works