Migrate PST Files to Microsoft 365
PSTs could be anywhere on your network, containing unknown and unclassified content. This creates a major data compliance risk for your business. With breaches in data regulations such as CCPA levying significant fines and the immeasurable reputational damage from a data breach, it's no wonder that this particular business risk has become a top priority for those who understand the impact. Moving your PST data inside the security governance of Microsoft 365 is the most popular response to this risk.
Transvault PST migration combines world-class technology using our PST migration software, with unrivalled expertise, experience and integrity to migrate your PSTs securely and seamlessly.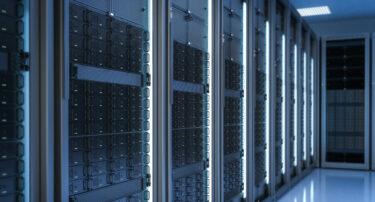 Without PST Insight's ability to scan within the PSTs, we would have needed to pull back 10 times the volume of email data, significantly increasing the data capture time and delaying eDiscovery. It goes without saying, by minimizing what needed to be moved, we also avoided an adverse performance hit on our network.
Key Benefits
Why Transvault PST migration is a good choice
Swiftly remove the latent data privacy risk

Locate and address dangerous, hidden data littered across the enterprise

Eliminate PST overheads

Eradicate management and storage waste for legacy data

Improve PST eDiscovery

Improved information governance reduces the time and complexity in eDiscovery scenarios

Industry leading, outcome-focused support

Helps improve project responsiveness and migration success

Legally defensible migrations

Full chain-of-custody capabilities ensure that your data is constantly safe during processing

Excellent end user experience

Seamless processing, vastly improving end user satisfaction and business continuity
Move PSTs to Microsoft 365 with Transvault
Importing PST files to Microsoft Office 365 is direct and simple with Transvault – there's no interim stages or file formats that add time, complexity and risk to your move.
Manage PST files in line with data policies with PST Insight
Our approach to PST migration lets you manage PST contents in line with your compliance and business needs. Supporting the eDiscovery process, we enable analysis and targeted collection across many thousands of PSTs without having to first migrate all their contents centrally.
For example, you might decide to:
Migrate all or just a subset of PST contents centrally
Delete 'in place' any contents that fall outside of your retention policy.
Search for shortcuts that have been put in PSTs, & either delete or re-hydrate them with the full item.
Unlike other PST management tools, PST Insight gives you unrivalled visibility of the individual emails in PST files. It will help you profile PST contents according to age, size, attachment type and many other criteria, generating detailed management reports that illustrate the risk and storage burden PST files represent to your company.
Designed for large and complex PST management projects, PST Insight delivers scalability and flexibility for your PST migration. It also gives the auditing and one-step assurance that lets you tackle your PST file with confidence.
Find out more about PST Insight
Considering a
PST migration project?
Relevant PST resources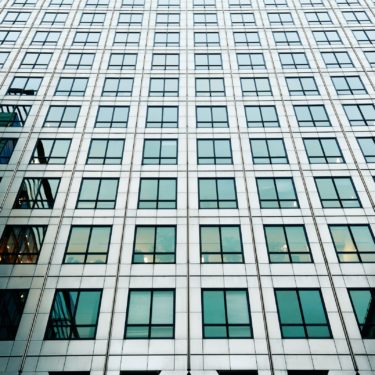 Banking & Finance
Integro culls PST contents for leading US consumer finance company.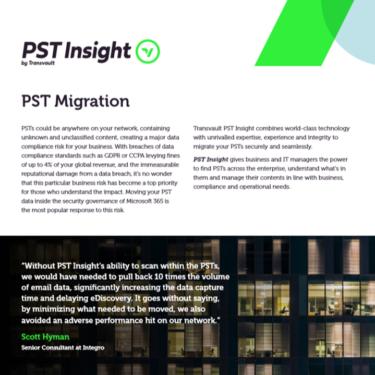 Transvault PST Insight combines world-class technology with unrivalled expertise, experience and integrity to migrate your PSTs securely and seamlessly.