Transvault plays Cupid this Valentine's day by urging businesses to love the Cloud
Leading Archive Migration ISV Shares the Love by Offering Free Cloud-Based Migration Pilots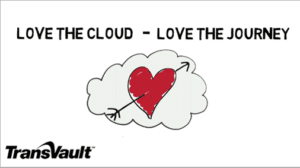 Clevedon, UK – (February 14, 2017) – Transvault, the leading developer of email archive migration solutions, calls on Cupid this Valentine's Day with their "Love the Cloud – Love the Journey" message, a partner centric initiative which enables free Cloud-based, expedient proof of concepts (POCs) for trialing their customer's data migration.
Transvault offers hosted migration infrastructure in Microsoft Azure. The benefits of conducting projects in this manner are myriad; faster project start times with no hardware to install on the customer's site, instant scalability to suit any project size or performance requirements and alignment between the migration approach and the overall Cloud strategy of the enterprise.
With the ability to conduct a test migration of up to 200,000 messages, businesses looking to migrate to Cloud solutions such as Microsoft Office 365 will quickly have the ability to gain a better understanding of the make-up of their source archives and confirm that Transvault's product suite will be capable of meeting their unique requirements.
In North America, certified Partners also have the option to call upon on-demand professional services from the Transvault as a Service (TaaS) team. This service is designed to make the Partner's overall offering to the customer more competitive, filling any gaps that might exist in its provision.
Commented Mike Bilsborough, director of product management for Transvault, "We've been concentrating hard on making our product suite available in Microsoft Azure and are now ready to start bestowing the benefits of this work on to Partners and customers. A Cloud-based migration pilot is a great way to get a migration project off the ground as quickly as possible and can provide useful insight into the state of the source archives and the data contained within. A Cloud-based migration approach is of huge benefit to all concerned with the project and will quickly become the de facto way to speed up the enterprise's journey to the Cloud".