Remote Working with Office 365: Overcoming The Challenges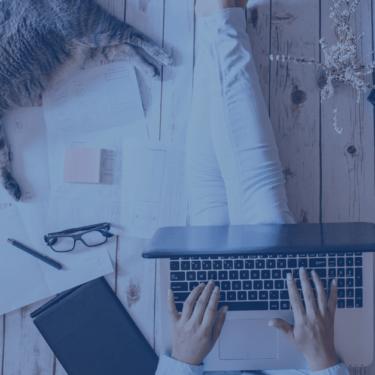 The current global pandemic has forced many businesses to enable remote working at a scale they probably haven't experienced before. This throws up many challenges both from a business perspective and for your teams. Many of us will be dealing with the challenges of remote working, especially those that have not mobilised it before. It does however represent an opportunity to unlock the benefits of remote working and improve business resilience.  
Those already set-up on Microsoft Office 365 are likely to be finding remote working easier. Microsoft Office 365 is a powerful platform and one that when used to its full potential, can make working remotely collaborative, efficient and ultimately an advantage to your business. Remote working needs to form a part of your long-term strategy as ways of working evolve both within and outside your organization. It's also a key aspect of business resilience.    
If you haven't migrated to the Cloud, find out more about Microsoft 365 migrations with Transvault.    
In this article, we will explore the challenges of working remotely and then share some advice on how Microsoft Office 365 can help you to overcome them. The aim is to empower and motivate your workforce to work the way they want and improve your business resilience.   
Working from Home Challenges
Microsoft Office 365 Collaboration
MS Teams and Collaboration
Remote work productivity & Microsoft Office 365 
Working from Home Challenges
There are a number of very real challenges faced by businesses when enabling remote working. We will look at what these challenges are and how Microsoft 365 can form part of the solution on a long-term basis. Some of the biggest business concerns about remote working and business resilience in general are in fact solved by Microsoft 365.  
Access to Information – Making sure everyone in your organization has access to the information and tools that they need is essential for remote working and overall business resilience. Microsoft 365 provides access to emails, documents, and a suite of productivity tools from the Cloud, making it available from virtually anywhere. The challenge that remains is encouraging users to maximise their use of these tools for collaboration and productivity – more on this later.   
Security – Working from home raises security concerns – are all files, communications and collaboration secure and compliant? Microsoft 365 has advanced security features built in and the Microsoft Cloud environment is as secure as it can be.
Some of the other challenges stem from the struggles faced by remote workers. On an individual and personal level for your remote workforce, there are concerns around isolation and loneliness, alongside motivation and focus. We will look at these in more detail in this article, but a good starting point is communication. 
Communication – Good communication is key to effective and positive home working. You should therefore have a communication strategy that focuses on making the most of Microsoft 365. Instant messaging and video software like Teams encourages easy communication between colleagues.  
Office 365 Collaboration
Collaboration is essential to all businesses. Overcoming problems, completing projects and unlocking new ideas for growth all require teamwork. When remote working is enabled, collaboration is even more important because face-to-face interactions can't happen. 
If you are managing a remote team, you will want to direct your employees to the most appropriate collaboration tools available on Office 365. 
Office 365 Collaboration Tools
Microsoft Office 365 is designed with teamwork in mind, with a number of powerful collaboration tools included in your license. From sharing file links in OneDrive and SharePoint rather than sending emails with attachments, to collaborating in real time on the same Office documents, Microsoft 365 has great tools for working together effectively.
Office Suite – collaborate on Word, Excel and PowerPoint in real time  
Teams – one of the most powerful Microsoft 365 collaboration tools – see below for more information
OneDrive – the easy way to store your personal documents in the Cloud and share with relevant people  
SharePoint Online – enables you to collaborate effectively with Sites. You can grant access to specific Sites in a range of ways that opens up effective collaboration beyond your organization. You can grant access to Team spaces or share individual files with time limits both internally and externally. The ability to share files externally with specific restrictions is highly important for building business resilience, enabling collaboration with external partners. 
Yammer – Teams is ideal for communicating with smaller, organized groups, but if you want to communicate efficiently across an entire organization then Yammer is the tool. Designed for large businesses, Yammer makes those company-wide updates easy. 
Generating Ideas in Microsoft 365
Being able to generate ideas and develop them in a collaborative environment is important. 
You will want to find a way to move ideation to a remote-friendly platform. Microsoft 365 has several options for this, but Microsoft Whiteboard is a good starting point. It integrates with Teams so you can share content and develop your thinking on an infinite canvas. 
Enabling Microsoft Teams for collaboration
When it comes to Microsoft 365 collaboration, Teams should be at the front and centre. It allows you to chat, meet, call, share resources and collaborate on documents all in one place. It's always getting better too.
If you have any of your workforce working from home, enabling Microsoft Teams for real-time collaboration should be your priority. Teams needs to be part of any long-term remote working and business resilience strategy. You can also use Teams to collaborate with external users, which is essential for future-proofing your business. 
Here as some of MS Teams collaboration features: 
Real time collaboration on documents and files   
Messages and Video Chat 
Project Collaboration 
Channels for projects, teams, conversations 
Microsoft Teams Meeting Collaboration
Meetings are an essential component of remote working. Teams allow you to run productive meetings in a range of formats. Video meetings are easy to set up and make sense when working from home as you benefit from being able to read body language.  
You can record meetings for those that can't attend as well as use the transcribe function.  
Here are some Teams meeting tips so you can get the most out of meetings: 
TOP TIP from Microsoft: It takes practice but if you're running a meeting you can "Pause frequently to allow time for questions and remind attendees that they can use the chat window to share their thoughts."   
TOP TIP: Record your meetings – you can share it with other team members or return to make notes and actions. There's also an automatically generated transcript that you can search. This means that whether you were in the meeting or not you get all the information you need.
TOP TIP: Blur your background or add another background in Microsoft Teams if your background could be distracting or have sensitive information. This will help keep teammates focused.  
Nulia Works to empower Microsoft Teams Collaboration
From our experience, Teams is one of the most under-utilized of all O365 collaboration tools. One of the best ways to enable your users to unlock the value of Teams is with the Nulia Works platform. Nulia Works gets users to deeply engage with and use the full range of features and functions of Microsoft Teams by monitoring individual's usage and providing personalized recommendations to drive skill development. It blows traditional Microsoft Office 365 training out of the water by developing skills by doing.  
Nulia Works addresses the gaps in traditional solutions through Digital Enablement, providing a better way to drive lasting change – getting people attaining, maintaining, and using new digital skills in their natural flow of work. The platform presents Outcomes and activities, for example: 
Send instant messages in Teams
Use Meet Now to quickly start a Teams meeting
Share your desktop in a Teams video meeting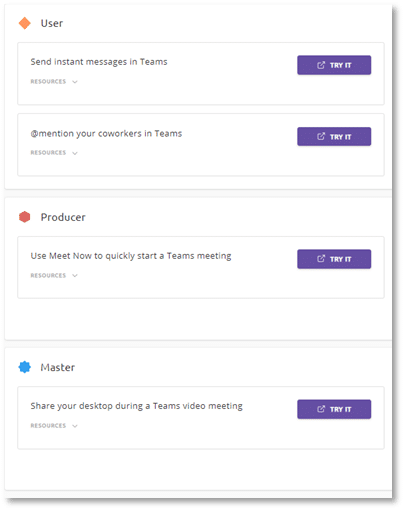 Collaboration for well-being
Collaboration also goes beyond getting people to work together effectively. As powerful as Microsoft 365 is, it only goes part way to achieving collaboration goals. The key is to nurture and invest in the relationships between your team members.  
With remote working, and particularly in the case of COVID-19, loneliness and isolation are a significant factor to consider. This means that effective communication and collaboration has a much more human drive, and role in protecting mental health.  
Remote working productivity & Office 365 
One of the major concerns for business leaders around remote working is that productivity dips. There are more distractions and less accountability. However, remote working productivity can actually increase. How do you track employee productivity in Microsoft 365? How do you prevent dips from happening? And what steps can you take to improve productivity? 
Work from Home Productivity for your team
Work from home productivity can vary dramatically between individual users. Some team members will thrive in their own environment, while others may have more distractions or their own challenges unique to their situation to contend with. You will need your managers to work on action plans around the latter.  
There are several practical working from home tips that your team can implement in order to be more productive. For starters, they should take advantage of having complete control of their environment and organize a workspace that has everything they need.  
It's your responsibility to make sure you provide all the equipment that they need too, including an understanding of the Microsoft 365 tools at their disposal. You should also encourage them to stay hydrated, take regular breaks, start and finish their days on time, and find ways to differentiate between work and home life.
Sarah Aboulhosn in her piece on Medium suggests that employees do a productivity audit. She recommends that they identify when you have the: 
best ideas  
most momentum 
when best for admin 
when for meeting – try and arrange them 
This post from Hubspot features more productivity tips when working from home. 
At a wider level, Microsoft Office 365 can help improve productivity as well as give you access to productivity tools and software.  
Office 365 productivity tools & apps
The following Office 365 productivity apps can help you and your team to maintain productivity when remote working: 
MS Teams – this platform makes it easy to chat, share and collaborate on documents, and hold effective group calls. As we've mentioned, meetings and video conferencing are effortless to set-up, participate in and record. The chat function is great for productivity as you can organize them along public and private channels, projects and teams. Any documents and specific SharePoint sites can be added to that channel. 
You are also able to create spaces for sociable chats, where non-work conversations can take place. This is particularly important when remote working for extended periods as it allows you to stay connected on a personal level  
OneNote – quickly take notes and capture ideas in various forms with this digital notebook so you never miss out on that eureka moment. You can then access your notes from any device – being able to easily share, search, or even dictate them. One of the major productivity benefits is that it syncs from any device to your PC so you don't need to rewrite or move them.   
Sway – create and share interactive reports, presentations or newsletters in Sway. It's easy to customise the appearance of a presentation and increase in engagement by integrating videos and other interactive elements.  
Flow – automate tasks and workflows between 100+ services, including Outlook, Excel, Microsoft Forms, and Docusign. Make use of templates – from HR to marketing too. 
Forms – if you need an easy way to put out a simple survey to your teams, then Forms makes it easy to create a survey, poll or even quiz.  
Task-Related Productivity Tools – managing your day-to-day
It's important to organize your days. Each user will have a different approach to capturing and monitoring tasks, and Microsoft 365 has a corresponding tool. Planner handles everything from humble to do lists to complex project work that requires several team members. You can easily create and assign tasks and track progress. By giving visibility over the status of tasks, it can further help motivate users and improve productivity. It splits activities into to do, doing and done, making it ideal for teamwork.  
Tasks is used within Outlook to quickly and easily create tasks and set reminders. To Do is a useful app that pulls in tasks from Outlook, Planner and other tools so you have one place to see your to do list.  
For more advanced project management, Project Online allows project managers to track multiple projects, keep on top of resource scheduling and use timesheets to accurately track time. 
Nulia Works for Microsoft 365 productivity
Nulia Works is platform-based and the first of its kind SaaS solution that enables businesses to use existing Microsoft 365 tools in new and better ways. It helps unlock the value of Microsoft Office 365 to increase overall teamwork, communication, and productivity.
One of the major advantages of Nulia Works is that it operates in the natural flow of work so it doesn't disrupt users in any way. There is no sitting through classroom training or hours of web-based sessions. Nulia Works monitors the way users work in Microsoft 365 and provides personalized recommendations to drive usage of its features and functions. It focuses on ongoing skill development and guides users to continuously attain, maintain, and use digital productivity skills.
Find out more about Nulia Works Platform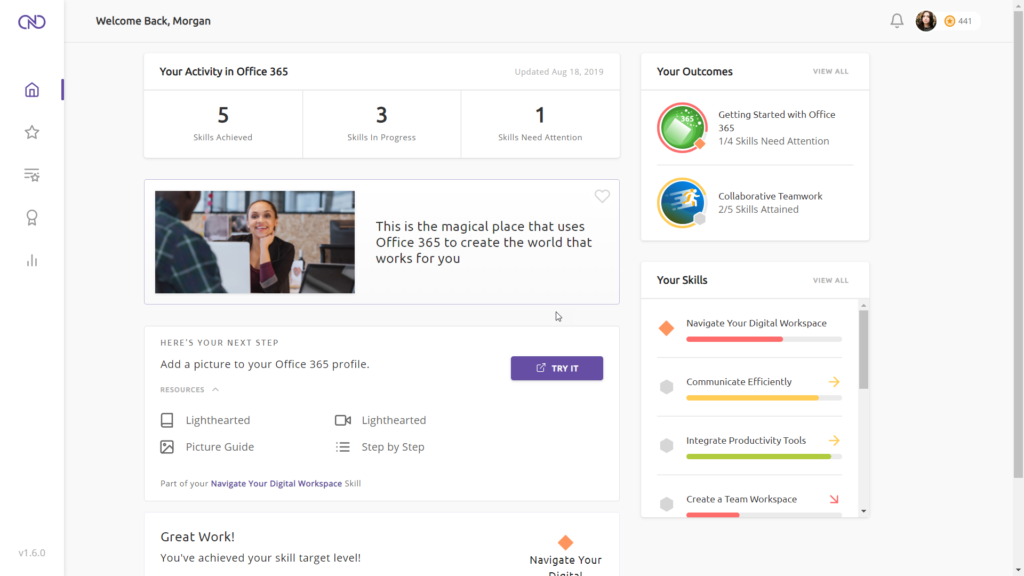 Office 365 productivity reports & insights
It's important to monitor productivity with remote workers as well as give them ways to track their own productivity. You want reports that provide a complete picture of how your users are engaging with Office 365 so you can spot any potential issues and put action plans in place. You will need to use Office 365 data to check in on the productivity of your team. Microsoft offers the following productivity reports & insights:  
MyAnalytics – this platform provides users with insights into their own productivity and how they are using Microsoft 365 tools. It can be seen in the Productivity Insights section of the MyAnalytics' dashboard. This productivity data is there to be owned by the user and can incentivise them to improve their personal productivity performance. Users can also access research-based recommendations on how to improve their work patterns. 
Nulia Works for Reporting
The Nulia Works platform is designed to be different from traditional solutions by providing actionable insights. These insights show how organizations are progressing towards their Outcomes and enable them to take action to ensure that their users are continually challenged and attaining & maintaining new digital skills in Office 365. 
Maximise remote working on Microsoft Office 365 with Transvault & Nulia Works 
It's important to get the most out of Microsoft 365 in order to build long-term business resilience. When it comes to improving adoption and productivity on Office 365, Transvault leads the way with Nulia Works to make digital enablement a reality, even when working remotely.