Cloud Visionary Cobweb Selects Transvault to Further Bolster Vuzion Smart Ecosystem
Leading Independent Cloud Provider Adds Proven Email Archive Migration Solutions to Their Comprehensive Portfolio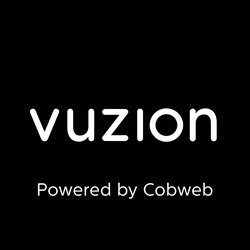 27th September 2016 – Atlanta, GA – Transvault, the leading developer of email archive migration solutions, announced their partnership with Vuzion, the cloud aggregator from Cobweb Solutions, at Microsoft's largest global IT conference, Microsoft Ignite. This cloud partnership will enable Vuzion, to extend the use of Transvault's archive migration solutions through the Vuzion smart ecosystem, helping resellers successfully transition email archives to the cloud.
For two decades, Cobweb have provided exceptional cloud services, liberating their customers from the restrictions of on-premise IT. Vuzion, launched in 2016, leverages Cobweb's extensive experience by offering up a proven, tested and seamlessly aggregated set of capabilities that service providers, resellers and cloud solutions providers (CSPs), can take to market with confidence.
Michael Frisby, Managing Director of Vuzion, commented, "We're excited to add Transvault to Vuzion's smart ecosystem. Transvault provides the most dependable email archive migration results and provides Vuzion's network of resellers with a secure and comprehensive set of capabilities that can be used easily and efficiently to help customers looking to unlock the full benefits of the cloud. Moving email archives to the cloud requires specialist knowledge which Transvault is ideally placed to deliver given its years' of experience and impressive customer list. We look forward to huge success in providing a quality migration experience for our partners and end-users alike."
With Transvault already a critical part of Cobweb's offerings, the companies are working together to solve the often neglected data aspect of cloud migration projects – the email archive. This makes up a significant portion of an enterprise's new cloud infrastructure to maintain data compliance. Regularly, businesses experience the vast quantities of emails stored in their on-premise archives as a barrier to migrating to a game changing new platform like Microsoft Office 365.
Barney Haye, Chief Executive Officer at Transvault commented, "We are honored to gain further validation for our solutions, particularly when it comes on the same week as the start of our 'To the Cloud, From the Cloud' initiative."
Transvault, with over 2,000 customer projects successfully completed, are truly experienced at managing the complex processes involved with moving terabytes of legacy data in a fast, accurate and compliant manner.
Haye continued, "Being selected by an innovator such as Cobweb signifies we are continuing to innovate in the space we originally created. With Transvault as part of their Vuzion platform for all cloud based archive migrations projects – their community can trust that the data will be professionally migrated."
"It's fantastic news for CSP resellers and their customers. Vuzion is a brand with cloud expertise, one that Transvault is extremely closely aligned with given the common experiences of archive migrations and the wave of opportunity presented by the transition from traditional IT infrastructure", said Quentin Clothier, Director of Strategic Alliances at Transvault. "I can't wait to share our combined knowledge and capabilities with folks at our roundtable discussion later in the year and have every confidence that this will be a long and successful partnership", he concluded.
Transvault Media Contact:
Liam Neate – liam.neate@transvault.com
About Vuzion
Vuzion is a modern, value-add Cloud Aggregator and Microsoft CSP Indirect Partner. Vuzion's mission is to help and enable IT Resellers, Systems Integrators and ISVs to build a long term future-proof and profitable Cloud based business by supporting the development of managed service offerings and professional services to help customers get the most from the Cloud.
Vuzion, founded in 2016, is born out of Cobweb Solutions, the UK's #1 provider of Hosted Exchange, and leverages Cobweb's 20 years of delivery experience across a wide range of Cloud services from partners which include Acronis, BitTitan, IBM, Microsoft, Mimecast and Symantec. Vuzion provides partners with not only a complete Cloud service delivery platform and a smart ecosystem of Cloud, managed and professional services from 100s of partners, but also a range of business success services to help them grow a profitable Cloud based business.
Vuzion prides itself on innovation through technology all backed up by UK support and advice, 24*7. Based in London with an operations centre on the south coast, Vuzion is a British company with a global outlook.
Cobweb Media Contact:
Marlin PR for Cobweb
Email. cobweb@marlinpr.com
Tel. 0207 932 5598