Workplace Analytics in Microsoft 365 delivers many powerful insights into how staff are working and collaborating. Business leaders use this data to:
Simplify human processes and complexity
Develop better managers for higher engagement and retention
Build effective sales teams and strategies
Measure the true costs of business activities and relationships
But what happens if all your workforce is not currently hosted in Microsoft 365?  Larger enterprises may need to operate in hybrid mode for several months. Certain parts of an organisation may need to remain on-premises indefinitely.
That's why Transvault developed WpA-Sync in collaboration with Microsoft, a tool that integrates your on-premises data into Workplace Analytics, hosted in the cloud, to provide true enterprise insights.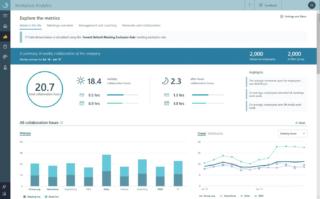 Get pre & post migration trends

By reviewing data and metrics that relate to staff whilst working on-premises, and continuing to do so once they've been migrated, Transvault WpA-Sync enables Workplace Analytics to provide extremely valuable 'before and after' information.

Maintain privacy & compliance

WpA-Sync includes control and security features that will help you meet the most stringent legislation relating to the handling and protection of sensitive data records, including the EU General Data Protection Regulation (GDPR).

Set it & forget it operation

Full workflow automation eases user and license administration, with services including auto-deletion of synchronised data and auto-assignment of Workplace Analytics licenses as soon as user's mailboxes are moved online.

Minimal network impact

WpA-Sync delivers superior performance and includes scheduling policies that enable operation outside of core hours to minimise impact on Exchange servers and your network.

Multi-lingual support

Transvault WpA-Sync support for data in Unicode format ensures Microsoft Workplace Analytics can correctly process data in many different languages.
With Transvault WpA-Sync you can capture the 'digital exhaust' from on-premises Microsoft Exchange mailboxes, archives and calendars, making it securely and seamlessly available to Microsoft 365 Workplace Analytics.
As well as getting a holistic view of behavioural metrics across your entire enterprise, you'll get 'before' and 'after' migration trends. This allows you to assess the impact of moving to Office 365 on workforce productivity.
Transvault's ultra-secure connection protects user data in flight, while privacy settings let you redact and filter what gets synchronised into WorkPlace Analytics to meet your data protection remit.
All the while, Transvault WpA-Sync operates seamlessly in the background, automatically stopping synchronisation to update licences as users get migrated to Office 365, and giving you a web portal with real-time updates on synchronisation status.
Find out more about WPA-SYNC